Gold Rush! Retro T-shirt:
The main protagonist Jerrod from Gold Rush! Classic will attend you on this T-shirt in this cool retro-style! The design is similar to other game-characters of the old games from Sierra. In one of the foot is small the weblink of the Gold Rush! website. T-shirt color is blue. The material is 100% cotton. The available sizes are M, L and XL (for men) and M and L (for women).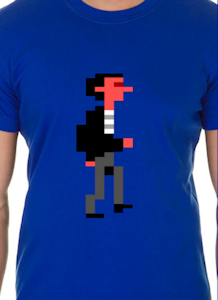 You can buy the T-shirt in the online-shop of Sunlight Games. All items will be shipped worldwide. Here you go to the online-shop.