Gold Rush! Anniversary "limited Special Edition ":
See the software description page for information about the game.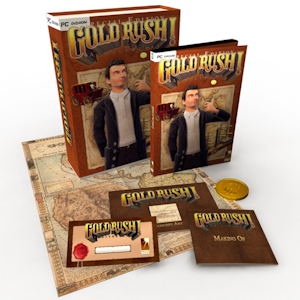 The Special Edition of Gold Rush! Anniversary includes:
• A box like the old Sierra boxes (box with a banderole),
• The normal box-game (DVD-Case which is in a high-quality paper package with a flap; DRM-free),
• A poster in the format DIN A1 on a high-quality paper,
• A printed booklet with a few new unpublished original concept drawings of the developer from the 80s,
• A printed booklet with making-of information,
• A printed certificate with the serial-number of the limited Special Edition,
• A golden metal coin in the design of Gold Rush!

==>> !THIS VERSION IS LIMITED TO 350 PIECES! <<==


You can buy the game in the online-shop of Sunlight Games. There you can choose between a German or an English box.

The game will be shipped worldwide. Here you go to the online-shop.